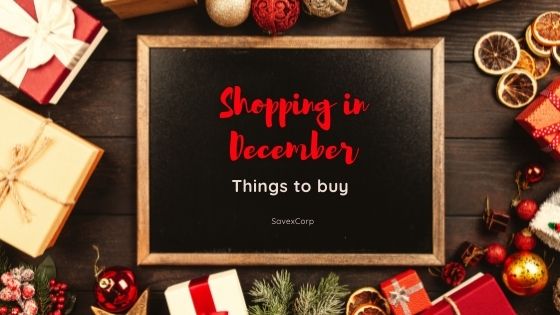 Top 5 Things to Buy in December month
Posted on |
Prefer to jump ahead to a section?
You can use the Table of Contents below
It's not too late to buy in December month all the gifts you promised yourself you'd buy a year ago. Perhaps you purchased all the gifts on your list and felt like treating yourself. Maybe you're planning to host guests and need to make sure your house is ready for them.
We've got your top categories to shop for this month which will offer you the best deals for the season. You can make smart purchases in December, no matter what you need or want to buy.
Gifts to keep your loved ones happy to buy in December
In December, retailers will want to get rid of their giftable items to not pile up in the new year. This is not the time to wait out offers on super-hot items. If you're flexible and comfortable shopping in stores, you'll find great deals at the last minute. Great idea! to buy in December month.
There is an abundance of deals to be found on toys, board games, plush blankets, small countertop appliances, smartwatches, and smart home gadgets. These gifts are all giftable, and retailers are eager to sell them to you.
A few pro shopping tips:
Stock up on non-perishable items with holiday packaging, and save them for next year.
Buy holiday-themed beauty sets that you can use throughout the year (a sparkly eyeshadow tucked inside a snowflake-shaped container is a great choice year-round).
Holiday gift baskets for New year Eve gathering.
Treat yourself to designer cloths
Just in time for self-gifting, retailers often throw after-Christmas sales featuring, among many other things, designer clothing. You can find many shops for giving away such offers after-Christmas and New Year's deals. It's an excellent time to buy something in December month yourself something for the New Year!
Electronic shopping best time to buy in December month
You can still find great deals to buy in December. Keep your eye out for tech deals in December if you missed out on Black Friday. Retailers want you to buy smartwatches, smart phones, tablets, smart speakers, smart screens and other smaller-ticket tech items as gifts, so they'll price them to sell.
There will be some early New Year's resolution sales on fitness trackers at the end of the month, and we're hoping to see gaming systems restocked by the end of the month. Amazon has offered steep discounts on its devices in previous years, and it will do the same in the months ahead.
Food and Home Entertainment
Food and entertainment sum up the holidays and inflation may be pushing up prices this year. However, there are still ways to save.
For savings on champagne, seasonal foods and more, check out the weekly ads at the local grocery stores and big-box retailers. Target has a great weekly ad for savers, as the store often offers gift cards with selected groceries.
Many chain restaurants offer promotions during the holiday season, where gift cards are thrown in when you buy gift cards. So if you're shopping for foodies, get them a restaurant gift card and keep the free card for yourself.
Take advantage of last-minute deals on place settings. You can find last-minute deals at home goods retailers on place settings, festive dishware, and center pieces.
Health and Beauty Products
Watch out for department stores to offer December discounts on gift sets and perfumes. Any holiday-themed products will be priced at the last minute discount. Also, be on the lookout for codes for beauty and health subscription boxes, such as Birchbox.
Few more suggestions on shopping smart and things to buy in December month
If you're shopping in December, keep these tips in mind to avoid shipping deadlines and supply chain issues.
When it comes to holiday shopping in December, you should keep the following in mind given holiday shipping deadlines and low stock.
Shop sooner: In the past, shoppers could put off their holiday shopping into the middle of December, but this year it is risky. Retailers and shipping companies face staff shortages, causing delays in processing and shipping orders. And retailers are having difficulty importing enough products from abroad. Make sure you shop early to avoid empty shelves and late packages.
No free shipping: Many retailers offer free-shipping offers with no minimum purchase requirement until the middle of December in the past. This year, retailers may stick with their year-round free shipping minimums if they are in place or require a minimum purchase. There will likely be no change to retailers' year-round free shipping requirements – or perhaps you will need to spend more to qualify for free shipping than in years past.
Be aware of shipping cut off: During December, retailers will start to announce their shipping deadlines, letting you know the date you must order to guarantee on-time delivery. Free shipping cutoffs typically happen around the middle of the month, so keep a record of it if you want to avoid paying expedited shipping charges
Choose for store pick up: You can often pick up your order the same day, assuming it's in stock. If you choose to buy online, pick up in-store services instead of relying on shipping.
Look for gifts that do not need to be shipped: Choose experience gifts, digital subscription gifts, gift cards, or subscription boxes instead of physical products that need to be sent. All of these gifts do not rely on on-time shipping. Consider Amazon's gifting feature if you'd instead give a physical gift. The service will send a text message detailing what you bought for the recipient, and they can choose either to receive the gift of an Amazon gift card for its value.
For more gift ideas find out our blog post on 10 GIFT IDEAS THAT ANYONE WILL LOVE